History of Livingston
Welcome to Livingston's History, Please take your time in reading this history along with the images to go with it.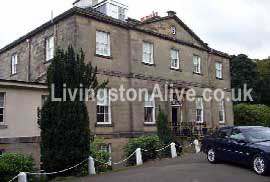 Firstly, the one common fault with Livingston is where it gets its name. Most people who were asked believed the town gets its name from David Livingstone, the man who was a close friend of James "Paraffin" Young, and who discovered the "Victoria Falls", however this is wrong and David Livingstone has nothing to do with the naming of the town.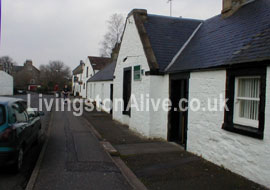 The Town Of Livingston was named after Livingston Village, West Lothian (Now in the heart of the town). Livingston Village gets its name from the Saxon named Leving or Leuing & from Old English tun or toun meaning settlement put them both together and you get "Levings-Toun" and as time goes by the name was slowly changed to Livingston. (See: Livingston Village)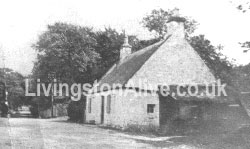 When Livingston was a farming village, roads used to have toll houses on them, where carriages would pay to use the roads. these toll houses also used to sell ales and spirits for the continuing journey!
Livingston New Town was the fourth of Scotland's five "New-Towns" designated unde
r the New Towns Act of 1946 (amended 1959). The development corporation named the "Livingston Development Corporation, or known to the locals as the L.D.C. was set up to ensure its planning and design, maintain roads and ensuring that "Greens" (areas of green land) were kept and not sold for housing schemes. The LDC kept Livingston going since 1965 when the New Town began to be built. (See: LDC)
The LDC's first priorities were housing and education, the first areas of housing built were Craigshill, Dedridge and Ladywell with the Regional Centre of Almondvale following soon afterwards.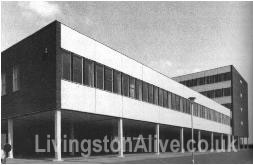 When Craigshill was built, along with it was built a high school, Craigshill Secondary Education High School, where most of the students went between 1969 and 1990 for their education. (Craigshill High School was closed in 1990 and was demolished in 1996). Also at Craigshill were built: the "Mall", a small local shopping centre with an RS McColls newsagents, Trustee Savings Bank (TSB), a local LDC Office, Pet Store and more. also built was a Fire Station along with the "Tower" Restaurant & Bar.
The Almondvale Regional Centre was opened in 1978 when Phase 1 of the multi-million pound development was revealed. The Centre housed stores such as WoolCo and Presto. The "Centre" as it became and still is known to the locals became a main feature of Livingston New Town with car-parking spaces for over 2000 cars.
Along with the Almondvale came the towns Forum (now demolished) where concerts, gigs and meetings would be held. Livingston also had its own bus station built in 1979 which was demolished and re-located in 2000. In the 1970's came the opening of areas including Howden, Murieston, Deans & Carmondeam and in the building process was part of Deer Park.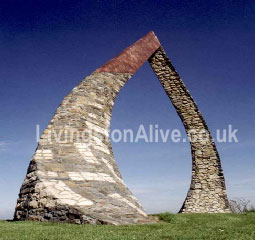 In 1995 the winding up order meant that the LDC would be no more and Livingston would loose its New Town status. The LDC, as with the other development corporations for the other new towns such as East Kilbride & Glenrothes were given a grant to do their last major operations before they would finally wind up.
The LDC decided that Livingston had no landmarks within it, and so with the grant they decided to go ahead with the "Livingston Landmark Project" which would put a little or sometimes large sculpture on each of the main roundabouts.
When the LDC wound up in July 1996, all operations the LDC had been responsible for were handed over to the newly formed West Lothian Council, which had, came from the former West Lothian District Council.
The LDC had put plans forward for a "Green-belt" around Livingston, however when it was wound up that plan got chucked out of the window and so Livingston is currently only one of two of the Scottish new towns which is still expanding due to the "Silicon Glen" industries of Diagnostic Sonar, NEC, Shin-Etsu and many more. However in recent years Silicon Glen has experienced a downfall in profits with two major blows to the area of West Lothian, majorly occupied by Livingston including the closure of the Bathgate Motorola Plant and the Bathgate/Livingston NEC Operations.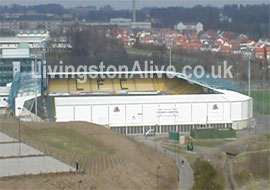 In 1994-5 the LDC carried out its last major building operation under their slogans "Make It In Livingston" and "Build it in Livingston", that was the joining of the Towns own small football club, Livingston Football Club with Meadowbank Thistle FC to form Livingston FC and the LDC built the "Almondvale Stadium" which has now been renamed to the "City Stadium" (See: Livi Lions)
In 1997 finally the Almondvale Centres new owners, Land Securities and Tarmac opened Phase Two of the Almondvale, which had over 100 new shops in it including Livingston's first Woolworth's, Argos, Inter-Sport and British Home Stores.
In 2002 Livingston got another big shopping complex, offering up to and over 25% off high street prices and a new 8 screen multiplex cinema, the Livingston Designer Outlet (Opened as McArthur Glen Designer Outlet Livingston) was opened in October 2002, three months later than scheduled (See: Livingston Designer Outlet)


In 2001 the West Lothian College of Further Education moved from their premises on Marjoribanks Street in Bathgate to their brand new modern building in Livingston.


2002 was an important year with Livingston bigger and better than ever before, with one of Britain's largest combined shopping complexes and one of the best Football clubs, Livingston really is a town with a growing future. With Stirling only just beating Livingston to become the Golden Jubilee city (See: City?), this shows just how much potential there is for Livingston, once a new town and now just a good old but modern town still with its far too many roundabouts with residents still referring to it as their "Roundabout City"
In 2004 Livingston & West Lothian got their first ever commercial local radio station, River FM. Broadcasting from Stadium House at Almondvale Stadium, it began broadcasts on 3rd September. It was quickly bought by Kingdom FM in Fife and since has been seen throughout the local community.
In 2006 Livingston FC had one of their worst ever seasons, resulting in them being relegated from the Scottish Premiere League. Livingston FC management have claimed that they will once again be in the SPL but first they need to work hard to get there!
In 2007 a major new development at Almondvale was announced - codenamed "The Elements" it will bring an even greater number of stores to Livingston's shopping district. Included among this are two large stores housing Debenhams and Marks & Spencer. This development is set to open in the Autumn of 2008.
***The Craigshill High & Howden Toll House Photos are taken from: Images Of Scotland - LIVINGSTON compiled by William F Hendrie. Published By Tempus Publishing Limited -BUY THE BOOK NOW***